Queen of Hearts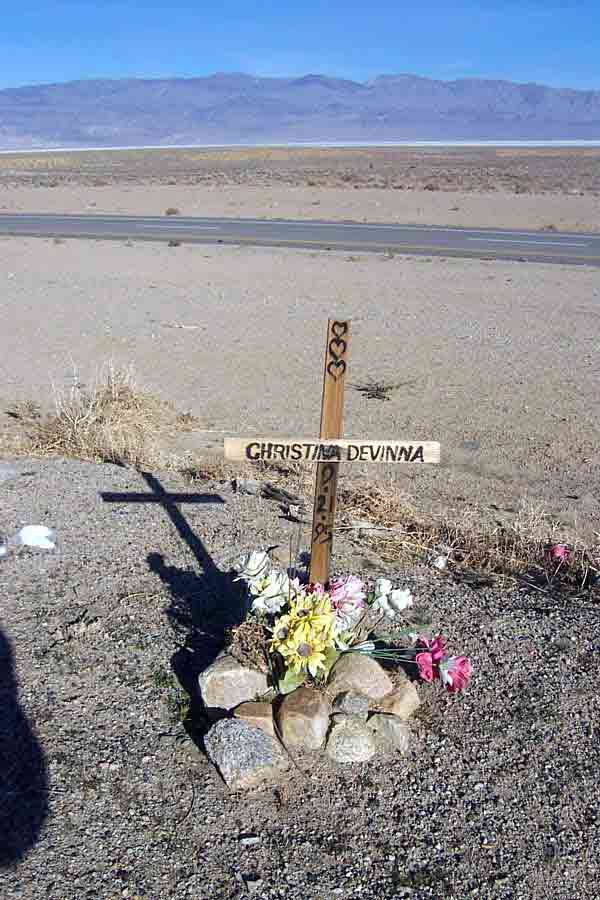 Road: Hwy 395 Southbound side, 18 miles north of Olancha
Location: 18 miles north of Olancha, CA

Victim: Christina Devinna
Date of Accident: 9-21-95

Age: ?


Inscription: "<Three Hearts> Christina Devinna 9-21-95"

Description: This lonely wooden cross hides among the desert shrubs of Highway 395. A rock base holds the cross in place, and ancient fake flowers lie at its base. The inscription is burned into the wood and includes three hearts at the top. This is one of the oldest road memorials I have ever seen. It is truly amazing that this fragile-looking cross has managed to survive almost 10 years.

Analysis: This is a very difficult White Cross to see. I must have passed it 10 times before I noticed it out of the corner of my eye. The problem is the cross is small, unpainted, and facing the wrong way (away from traffic). For some reason, this lonely little cross bums me out. God knows why young Christina was traveling down this desolate stretch of highway. I imagine this is another case of falling asleep at the wheel because this place is in the middle of nowhere, and the drive is brutally boring. It must be a hell of a trek for her parents to visit this memorial, but like many grieving parents, they do.
More Images: Photo One - Photo Three

Return to White-Crosses Main Page